Since 2006, Dr. Shoshany was one of the first doctors in NYC to offer Kinesio Taping in NYC for injury prevention and treatment, a highly popular therapy with athletic New Yorkers. In an interview on CBS's The Early Show in 2008, Dr. Shoshany explained the practical applications of kinesio taping for Olympic athletes and how it can benefit patients who suffered from muscular and sports injuries and how it is superior to traditional bandages and other restrictive methods. Furthermore, Dr Shoshany's associates physical therapists are also certified by RockTape as FMT (functional Movement Taping) providers, as well as being Kinesio Tape certified.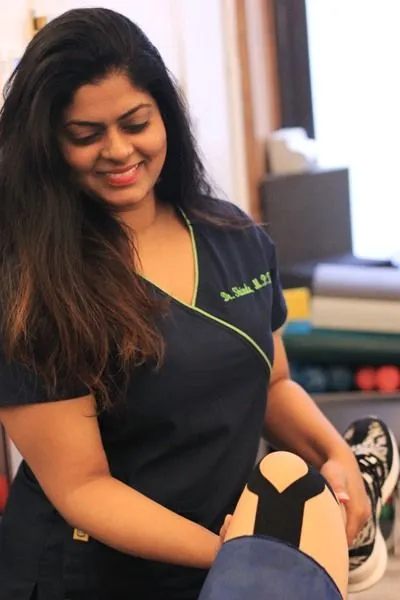 Dr. Shoshany offers primarily ROCKTAPE at his practice because it is the highest performing kinesio tape available for athletes and allows for safer training, even when an injury is previously present. Kinesio taping also delays muscle fatigue, which enhances athletic performance and lowers the incidence of muscular injuries by safely allowing the athlete to reach a measurably greater range of motion without restriction.
Because of its unilateral stretch design and elastic construction using top quality materials, RockTape provides biomechanical support that delays fatigue and enhances stability and endurance, making it an ideal companion for all types of athletes and even sedentary patients who are recovering from injuries.
Pain relief and rehabilitation are enhanced by the use of RockTape, allowing patients to achieve the best possible results without impairing their mobility as they recover. RockTape also assists in lymphatic draining and reduction of inflammation by strategically lifting the skin in the affected areas.
Treatment in NYC Utilizing Kinesio Taping and Rock Tape
Dr. Shoshany and his on staff Physical Therapists are certified RockTape doctors, well-versed in all the applications and benefits of taping for Crossfit athletes, marathon runners, dancers, fitness enthusiasts, as well as regular patients who suffer sprains and many other types of injuries. Kinesio taping at our NYC clinic is meant to enhance movement and endurance for optimum results during athletic performance and/or injury rehabilitation and does not restrict muscular function, which makes it an essential part of any physical fitness regime.
Integrating Kinesio Taping in NYC with Sports Medicine and Physical Therapies
Kinesio taping is rarely used as a standalone method of treatment in our NYC office. In the majority of cases, any form of assistive kinesiological taping is used in conjunction with chiropractic, physical therapy, and can also include manual therapies like massage or the Graston Technique. Kinesio taping NYC is also used after cold and warm laser therapy sessions to protect the joint or muscle from a compounding injury, or to help in lymphatic drainage. For "fresh" injuries the class 4 laser can be used, and in the case of older, or more chronic injuries the cold laser therapy may be utilized. However, each case is treated as a unique event and the course of treatment reflects the patient's goals, lifestyle and history.
Invented by Dr, Kenzo Kase in the 1970s, Kinesio taping has been a go to treatment for muscle injuries, joint injuries and chronic pain. You may have seen beach volleyball star Kerri Walsh win a gold medal at the 2008 Olympics while wearing Kinesio tape. Tour de France winner Lance Armstrong has also praised its effectiveness.
Kinesio tape has many advantages over conventional athletic tape:
Conventional tape is rigid, limiting motion while Kinesio Tape is more flexible, allowing full range of motion.
Kinesio Tape can stretch to 140% of its original length.
Kinesio Tape is comfortable. Many patients can't even tell that they're wearing it, except for feeling better.
Kinesio Tape can be applied either with the muscles relaxed or with the muscles stretched. This means it can be used to treat a wider variety of injuries, ones where muscles need strengthening as well as ones where muscles need rest.
Kinesio Tape lifts the skin, allowing better circulation (blood and lymph flow) to the injured muscle. This speeds healing. It also takes pressure off of inflamed nerves, reducing pain.
Kinesio Tape can be worn for several days without changing. And it can even be worn in the shower. Kinesio Tape NYC treatment supports injured muscles without restricting their movement. This is most useful for athletes, allowing them to compete or practice effectively. But it can also help non-athletes perform their day-to-day activities more comfortably and with less pain.
Kinesio tape can be applied to most body parts, including the knee, shoulder, ankle, back, groin, elbow and leg.
Some of the many conditions it's proved useful in treating include:
Herniated Disc
Plantar Fasciitis
Carpal Tunnel Syndrome
Tennis Elbow
Rotator Cuff Injuries
Chronic Knee Pain
Strains and Sprains
Kinesio Taping is only one part of a successful physical therapy and sports medicine program to heal injuries and relieve pain. Because it's effective for so many different types of injuries and can be applied on virtually all body areas, for many patients it's a very important part. While it takes training to learn to apply Kinesio Tape properly, to get its full benefits you should see an experienced professional. Dr. Steven Shoshany is a Certified Kinesio Taping Practitioner who has been successfully using Kinesio Taping for well over ten years.
For additional information on the benefits of RockTape and sports injury treatment with Kinesio Tape NYC please schedule a consultation, or to purchase kinesio tape in NYC, please contact or drop by our chiropractic office in Soho, Manhattan.
New York State law requires that all insurance carriers pay for Chiropractic care. Most insurance plans are accepted without an outside referral by your doctor or insurance carrier.