NYC Chiropractic and Spinal Decompression Center
We ta
ke great pride in providing the finest chiropractic care to our patients.
Below is a sampling of the different chiropractic services we offer in our New York City office.
We Specialize in Spinal Decompression using the DRX 9000
NYC Chiropractic Care
We provide advanced spinal correction in our New York City chiropractor practice utilizing "state of the art" chiropractic techniques. Never in the history of chiropractic have we been able to provide the level of help and expertise that now exists. These newer correction methods are even safer, more comfortable and more effective than ever before. Palmer Method, Cox Technique, SOT, Activator methods, Upper cervical specific, Diversified Technique, Certified Extremity Practitioner, Pediatric Chiropractic techniques, Graston technique , Kinesio Taping, Spinal Decompression using the DRX 9000, SpineForce, Physical therapy, Acupuncture and Myofascial technique.
Cold Laser therapy "bio-stimulates" tissue growth and repairs muscles and tendons . Low Level Laser Therapy has been shown to accelerate healing and help to dramatic decrease chronic pain or inflammation. Unlike all other treatment modalities, laser therapy actually "heals" tissue as well as providing a powerful non-addictive form of pain management. Cold Laser Therapy and whole body vibration is a effective treatment for Carpal Tunnel Syndrome.
Deep laser therapy (Class 4) is sometimes called "hot" because it differs from cold laser therapy in that the laser actually produces and treats with heat. Class 4 deep lasers produce heat that can provide pain relief through reaching much deeper into the skin & muscle fascia than any other form of applied heat.
Corrective Exercise
We teach our patients special "blueprint" exercises designed just for them to help strengthen and correct their own unique problem. These exercises can be performed in the comfort of your own home and can improve the effectiveness of your spinal correction by as much as 30-40%.
Lifestyle Advice
We often find it helpful to "coach" our patients on certain activities they should avoid or do differently to avoid aggravating their particular health challenge. Our goal is to help every patient achieve a fulfilling and happy lifestyle full of the activities they enjoy most.
Spinal and Postural Screenings
Posture and spinal screenings by a NYC chiropractor can reveal important health information and unlock the door to improved health and well-being.
We provide screenings at area malls, community events, health fairs and places of employment.
Contact our New York City chiropractor's office today to arrange a screening at your event or workplace.
Corporate/On-Site Chiropractic Care in NYC
Please inquire for more information.
Using the latest equipment we have a high success rate in resolving both Cervical and Lumbar Herniated Discs. We offer the most competitive rates in New York for this amazing treatment and utilize the most effective tables. DRX 9000 is a table commonly used, our equipment is FDA cleared.
With Spinal Decompression patients that have Herniated or bulging disc and have considered surgery now have a Safe, Non-Surgical and Drug free way of correcting the Disc Herniation.
Second opinion by an NYC Chiropractor
Have you been told you need a surgery for a herniated disc? Do you want a second opinion on MRI results. Dr. Steven Shoshany is trained in MRI reading and prior to becoming a Chiropractor he worked in a MRI center and has extensive experience reading MRI's
Massage Therapy
Our licensed massage therapist offers three varieties of massage specific to patients needs:
Swedish Massage
This classic technique uses therapeutic soft tissue manipulation to ease muscular tension and stress while providing deep relaxation and a sense of renewal.
Deep Tissue Massage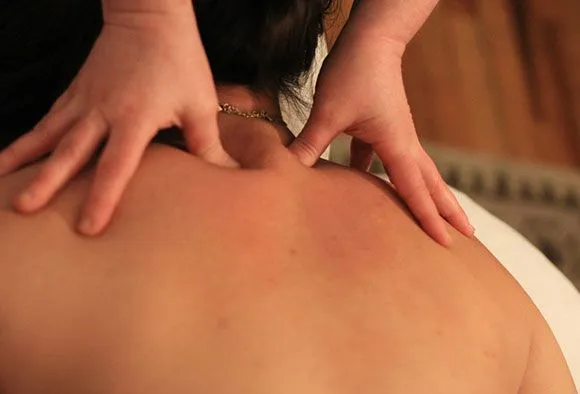 This treatment uses a series of intensive techniques to manipulate sore, tight muscles and the connective tissue that holds them in place. Highly therapeutic, deep tissue work increases circulation, releases built-up toxins, and heals and restores balance to the body and nervous system. This can be excellent treatment for chronic injuries.
Pre Natal Massage
This soothing, full-body massage targets areas of tension during pregnancy, and will help relieve lower back pain, sciatica and water retention. An excellent way to increase circulation, this technique allows you to lie down safely and comfortably, and can be used anytime after the first trimester.
Acupuncture, Cupping and other Traditional Chinese Medicine techniques are available to be used as a supplement to most treatment plans. Each plan is tailored to find effective long term solutions that treat the root cause of the problem and result in less time undergoing treatment and also help cut costs in the long term. Acupuncture can be used to treat a variety of conditions including Carpal Tunnel Syndrome, Plantar fascitis, headaches, neck pain, gastrointestinal distress, and various forms of tendinitis.
Computerized Gait Analysis & Orthotic Fabrication
We use the Computerized Gait analysis which gives us a tremendous amount of information about your foot biomechanics and allows us to build a custom orthotic that is unlike any orthotic and is 100% customized to the way you walk.
This technology is so new that Dr. Shoshany is the only Chiropractor in New York that uses the Gait Scan System.
Benefits of Orthotics & Gait Analysis
While neck back and knee pain are so often the cry that push us to visit the chiropractor, it's easy to forget that these and many other skeletal discomforts can originate all the way down at our feet. The American Podiatric Medical Association says that the average person takes 8,000 to 10,000 steps a day. Your feet and their many steps play the ultimate role in supporting the rest of your body, and improper function can have significant adverse effects on joints higher up the kinetic chain.
At higher activity levels (ie: jogging, running, court sports etc) the pressure on your feet may be 3 to 4 times your body weight. At the end of the day, there are 8000-10000 reasons to ask Dr. Shoshany about custom orthotics and proper footwear.
The inclusion of cutting edge technology in all facets of chiropractic is paramount in being able to deliver optimal patient care. Included in our armament is the revolutionary gait analysis technology
With 4096 sensors scanning 125 times per second, we are able to obtain the most precise information concerning your foot biomechanics. As a result, we are able to advise, educate and provide for you the best possible orthotic options and footwear solutions. Please ask Dr. Shoshany or any of our staff about a consultation for gait analysis.
Pain Management - Trigger Point Therapy
Trigger point injection (TPI) is used to treat extremely painful areas of muscle. Normal muscle contracts and relaxes when it is active. A trigger point is a knot or tight, ropy band of muscle that forms when muscle fails to relax. The knot often can be felt under the skin and may twitch involuntarily when touched (called a jump sign).
The trigger point can trap or irritate surrounding nerves and cause referred pain - pain felt in another part of the body. Scar tissue, loss of range of motion, and weakness may develop over time.
TPI is used to alleviate myofascial pain syndrome (chronic pain involving tissue that surrounds muscle) that does not respond to other treatment, although there is some debate over its effectiveness. Many muscle groups, especially those in the arms, legs, lower back, and neck, are treated by this method. TPI also can be used to treat Fibromyalgia and tension headaches.
Physical Therapy NYC
Our patient physical therapy department includes back pain rehabilitation and our pre and post operative treatment programs.
"I believe the real value of physical therapy lies in its hands-on approach to care. You have to look at the individual needs of every patient and develop a program to get them back to the things that enjoy doing. This often means a combination of manual techniques and individualized physical exercises." -Monika Piwnicka D.P.T., Physical Therapist
Our physical Therapists are trained in both the evaluation and treatment of musculoskeletal injuries.
PT's use a combination of hands-on techniques along with specific physiotherapy "modalities" such ultrasound, electric muscle stimulation, and exercise.
"Manual Therapy" consists of such things as myofascial release techniques (deep tissue treatment by hand), stretching of restricted structures and soft tissue and joint mobilization/manipulation.
In addition to hands on techniques, our physical therapists use an extensive array of therapeutic exercises in treating patients. It is a two step process starting with an evaluated to identify where the problem areas exist for each patient. Following this evaluation, the physical therapist creates a customized program of strengthen and flexibility exercises. The result is that our patients get back to an active lifestyle faster by becoming more fit.
Another we help our patients is to create a home program of care so they become less likely to return with the same complaints after we finishing treating them. These are detailed exercise program centered around their specific needs at the end of their care. We find that this extra step keeps most of our patients from returning over and over again with the same problems.
Nutritional Counseling
We provide specific recommendations on nutritional supplements and healthy food choices to enhance our patient's return to optimal health.
Procedures
Medical specialists such as an orthopedist, physiatrist, pain specialist, or neurologist can administer TPI. Injections are given in the physician's office and takes approximately 30 minutes. Before performing TPI, the physician may give the patient a nerve block to prevent pain from needle penetration.
A small needle is inserted into the trigger point and a local anesthetic (e.g., lidocaine, procaine) with or without a corticosteroid is injected. Injection of medication inactivates the trigger point and thus alleviates pain. Sustained relief usually is achieved with a brief course of treatment. The injection may cause a twitch or pain that lasts a few seconds to a few minutes.
Aftercare & Followup
Numbness from the anesthetic may last about an hour and a bruise may form at the injection site. Pain can be relieved by alternately applying moist heat and ice for a day or two. In most cases, stretching exercises and physical therapy are performed following TPI.