Amino Neuro Frequency Therapy utilizes a patch in the shape of a circular disc. This patch is made out of carbonized metal that can hold a specific frequency. When a patch is applied to the skin, the patient's body heat activates the frequency in the patch. The patch can stay on the skin for up to three days and hold a very specific frequency. There are over a hundred and twenty different patches, that all resonate at different frequencies.
These patches are not available to buy over the counter, patients are required to go see a chiropractor, physical therapist or a massage therapist. These specialists are certified to help determine which of the patches are most appropriate to help specific conditions.
At our Manhattan practice we're utilizing treatments like chiropractic care, physical therapy, and cold laser therapy together as part of an integrated protocol for pain treatment. We're now going to be able to include ANF therapy, when its called for, leading to an improvement on patient response times. Since adding this modality to our practice, we have been blown away with the successes some of our patients have seen. Its a fairly simple approach, once we figure out which Amin Neuro Frequency patch is needed. To be able to put a patch on different areas in their body and wait thirty to forty-five seconds for pain relief is amazing, and we hesitate to call it magic.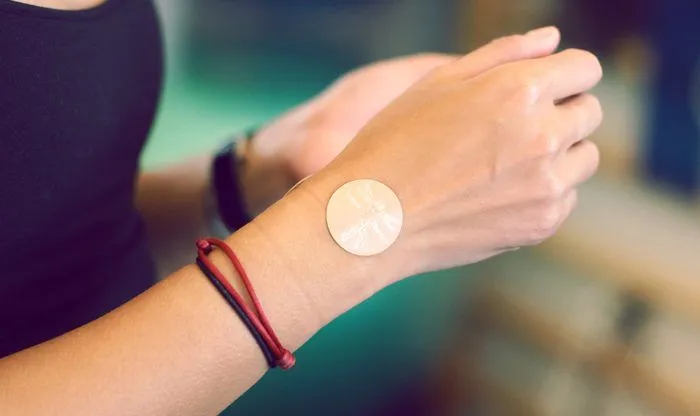 When patients come in and do their physical therapy at our Manhattan practice, we often send them home with the patches, so in between visits, patients are able to experience extended pain relief. This can not only help relieve pain, but the quick results often help them stay on track towards recovery. Having a "take home" therapy to help patients in between visits also allows for patients to keep their recovery and therapy goals in mind when they are not at the office. The patches can be used at home to extend the period of the pain relief and actually help reduce the pain and inflammation, and help the body heal itself .
We pride ourselves on a fast turnaround time when it comes to treating pain, and this not only helps with patient satisfaction, but patients are more likely commit to completing their course of treatment when they see quick results. If you're interested in learning more about ANF therapy, or any of our vast number of integrated treatments, do not hesitate to call us at: 1234567890
New York State law requires that all insurance carriers pay for Chiropractic care. Most insurance plans are accepted without an outside referral by your doctor or insurance carrier.