The Ring Dinger® Available in NYC
The Ring Dinger® technique is a powerful Y-Axis manual decompression therapy.
NYC Chiropractor Dr. Shoshany is a member of Team Ring Dinger®. Popularized by Dr. Gregory Johnson who is an award-winning Chiropractor from the Houston Area, the Ring Dinger® technique has taken over social media. Dr. Johnson has become such an inspiration to many people interested in chiropractic that some of his patients end up enrolling at the Palmer College of Chiropractic. Dr. Johnson practices at Advanced Chiropractic Relief LLC. He has helped thousands of people while practicing for over 39 years. Some of the painful conditions that can be treated using the Ring Dinger® technique and chiropractic care include neck pain, back pain, herniated disc, sciatica, as well as a number of sports injuries. Chiropractic has also become very important and popular in the CrossFit community due to its non-invasive nature and fast results.
"Dr. Johnson practices a very specific corrective care technique called Johnson BioPhysics®, which is highly-focused on the detection and correction of vertebral subluxation. Every person walking around in gravity needs to be checked for vertebral subluxation. If you have a spine and a nervous system, you need to get checked for vertebral subluxation and adjusted if you suffer from this very serious condition. The only ones that shouldn't get checked are the spineless." Dr. Johnson, Advanced Chiropractic Relief LLC.



PROVEN - EFFECTIVE - SAFE
Dr. Steven Shoshany is a graduate of Life University and has over 20 years of chiropractic experience to call on when treating his NYC patients. He is always looking for cutting edge and effective, results-driven techniques to help his highly diverse and demanding pool of patients. Dr. Shoshany's practice is not limited to chiropractic but also incorporates physical therapy, manual therapy, advanced Laser therapies, as well as Spinal Decompression utilizing the DRX-9000. Dr. Shoshany has pioneered and advocated for a holistic, personalized approach to providing integrated physical medicine. This means that the whole body is evaluated starting with the spine and the penitent's goals and lifestyle are considered when designing a treatment plan.

CALL NOW - Immediate Appointments Available!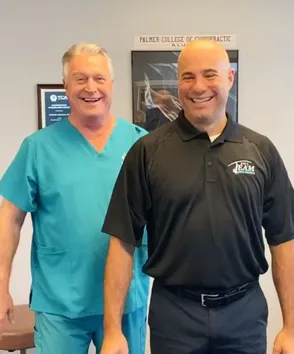 The Ring Dinger® technique has been rising to almost viral levels on social media thanks in part to the dynamic, powerful, and often loud adjustments. Dr. Shoshany has seen social media as an effective way to communicate with patients and help popularize chiropractic as a safer alternative to pain medication and invasive surgery. He found the ring dinger® as yet another tool in his ever-increasing repertoire of non-surgical pain treatment methods. He heard of people flying to Texas from all over the world just to undergo this technique, so he decided to reach out to Dr. Johnson to bring the Ring Dinger® to NYC.
Dr. Shoshany hopes to combine his 20+ years of integrated chiropractic experience with the Ring Dinger®, physical therapy, and spinal decompression to take back and neck pain treatment to the next level.

If you're interested in the Ring Dinger® or one of the many other treatments/ techniques we offer, please call 212 645 8151